1st DIVISION, FALLSCHIRMJÄGER RGT. 3,
1st BATTALION, 3rd KOMPANIE.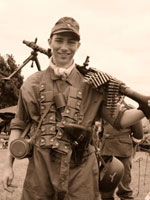 The German Fallschirmjäger unit's main impression is of troops that fought as part of the desert campaign and in Sicily and Italy 1942-1945.
Dressed in their Luftwaffe pattern helmets, camouflage smocks summer tunics the FJ's are strong on firepower using a mix of Mauser rifles, MP40's, hand grenades and when possible the support of an MG34/42. The original troops were an elite force and our FJ's always draw a crowd at displays for their distinctive uniforms and spirited tactics.
Basic summer uniform:
Stalhelm
Troppenhemd
Fallschirmshützenbluse
Überfallhosen
Koppel mit Koppelschloβ in grey-blue or tan.
Fuβbekleidung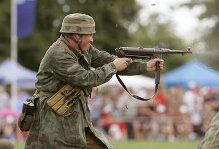 Basic winter uniform:
Stalhelm
Hemd
Fallschirmshützenbluse
Fallschirmhosen / Kielhosen
Koppel mit Koppelschloβ in grey-blue or aluminium.
Fuβbekleidung
A PDF of our unit manual is downloadable here.