What does the World War II Historical Re-enactment Society do?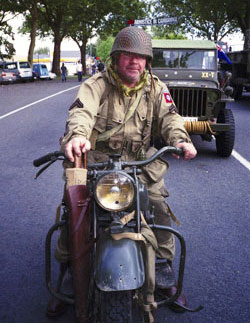 Military re-enactment is a hobby that is hugely popular all over the world. From the Civil War in the United States to Napoleonic warfare in Europe, many men and women enjoy putting on displays for the public in period costume. Our society is dedicated to preserving and presenting New Zealanders, their Allies and their enemies in their struggle during the Second World War by collecting, wearing and representing soldiers from that period of history.
Preserving history in a unique way
By educating club members in unit history, tactics, and training
By displaying uniforms and equipment at public displays
By demonstrating weapons and tactics in live battles for the public, using blank ammunition
What does the Historical Re-enactment Society offer?
The H.R.S has monthly training days which include:
foot and rifle drill
weapon safety skills
tactical training
World War Two history
We have events for the public and also private tactical exercises; we also create an environment for World War Two enthusiasts to share their knowledge and interest.
A Brief History of the Society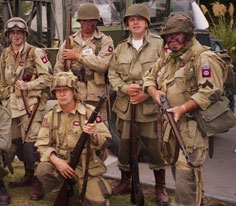 The World War II Historical Re-enactment Society was formed in March 1995, the year of the anniversary of the end of the Second World War. The society formed two units, one allied and one German for a T.V.N.Z display battle and went on to provide extras to several local TV programs like "The Charles Upham Story", "The call up", and "Heroes" as well as several short films. The H.R.S also became a draw card at MOTAT "LIVE" days with display battles involving both tanks and infantry.
Over the years the society has appeared at many different events from commemorations to air shows, from movie sets to corporate events. The society has travelled the length of the country from Whangarei to Wanaka in the course of entertaining and educating the public about World War II.
The Society has expanded to involve members up and down the country; many members are in possession of different uniforms from other nations & services during World War II. We have a broad base of knowledge, experience & resources enabling any World War II themed event or production to come alive.
Questions Often Asked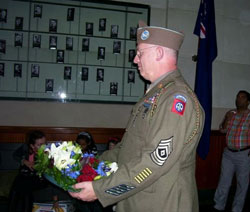 Are you glorifying war?
No. We believe that military history is an important part of our heritage. Re-enactment gives us a little more understanding of our forefathers sacrifice and helps educates the public about World War Two.
Is Re-enactment dangerous?
Safety is our highest priority. We have to be very careful in handling any weapons and aware that there is plenty of physical activity in our hobby. We have safety rules that help prevent injury. Our society also carries public liability insurance.
Are your weapons real?
Yes. Our members have firearms licences and permits for all the weapons used.
Does your society have a political position?
No. However the society supports the rights of licensed firearms holders.
Are the German soldiers Nazis?
No, the Nazis were a political organisation; most German soldiers fought for country and unit loyalty not Nazi ideology. The society does not re-enact any political units.
Are you part of the army?
No, we are all members of the public, interested in preserving military history. Some members are ex-army.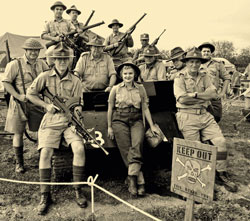 Can women join?
We have several women in the society. Sometimes they take on the male combat 'roles' and sometimes they are dressed as one of the Women's service organisations, depending on the type of event.
Is there an age limit?
Combat roles must be by someone 16 and above. Younger people can undertake training and non-combat roles. There is no upper age limit, however members should be active.
When does the society meet?
The society meets monthly for training (usually in Auckland); we also have numerous activities year round. Our busy season is around summer when there are many public displays on.
How do you become a member?
You can join as a guest member and pay a 'one off' event fee. Or you can join as a full member and pay a nominal annual fee. Full members undergo a three event probation period.